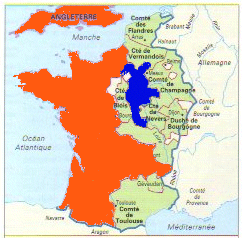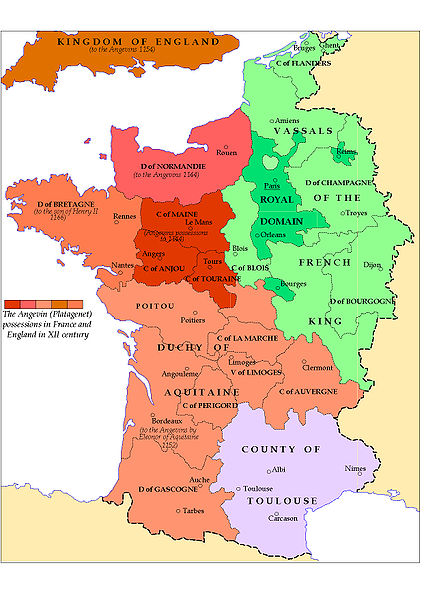 In its full

est

extent,

the Angevin

Empire

comprised

the Kingdom of

England,

the Lordship

of Ireland,

the Duchy of Normandy

and the

Duchy of Aquitaine

(

the duchy

of Aquitaine,

which included the

County of

Poitiers,

the Duchy

of Gascony

, the County of

Périgord

, the

County

of La Marche

, the

County

of Auvergne and

the Viscountcy [shrievalty] of

Limoges)

, which were the lands belonging to his wife, Eleanor of Acquitaine,

and the County

of Anjou

(

which included

the County

of

Maine

and the County of

Tours) which he inherited from his parents

.

The

Plantagenets

also

had influence

in the Duchy

of Brittany,

in the Welsh

independent principalities,

in the

Kingdom of Scotland

and the County of

Toulouse

, although these

territories

were not formally part

of the empire
. The King of Scotland paid homage to Henry II of England for the lands he held in England.
The Lord Rhys of Deheubarth in south Wales, and Owain ap Gruffudd, Prince of Wales, were made to swear fealty to Henry II in 1163, at Woodstock, but broke their oaths in 1165. So Wales was never really part of the empire.
In the Treaty of Falaise 1174 King William of Scotland was made to swear that Scotland would thereafter be subordinate to the English crown.
In 1155, Pope Adrian IV, issued a papal bull (known as Laudabiliter) that gave Henry II permission to invade Ireland as a means of strengthening the Papacy's control over the Irish Church. During 1171, Henry II landed an army in Waterford to ensure his continuing control over the preceding Norman force. In the process he took Dublin and had accepted the fealty of the Irish kings and bishops by 1172, so creating the Lordship of Ireland, which formed part of his Angevin Empire.
It is significant that Henry II and his sons and their lands in France were not outright kings of these territories, but only held these as fiefs of the King of France, to whom on several occasions they did homage for them.
References
Angevin Empire - Wikipedia
Empire Plantagenêt -Wikipédia
The Making of the Angevin Empire
C. Warren Hollister and Thomas K. Keefe
Journal of British Studies
Vol. 12, No. 2 (May, 1973), pp. 1-25 Published by: Cambridge University Press on behalf of The North American Conference on British Studies
Stable URL:
http://www.jstor.org/stable/175272