Wikipedia Medieval ships
Wikipedia Traditional Fishing Boat
Norse Herring Boat
Wikipedia Yole
Smyth, H. Warington (1906)
Mast and sail in Europe and Asia
http://www.thecheappages.com/smyth/mast_n_sail_03.html
OPEN FIVE-OAR HERRING-BOAT


Boat used by William the Conqueror depicted in Bayeaux Tapestry
Cymbula [Cumbula] Regia (Royal Barge)
1611
Caulking
Franklin, C. A. (1985). Caulking techniques in Northern and Central European ships and boats, 1500 B. C.- A. D. 1940 (Master's thesis, Texas A&M University).
Michael L. Ryder. "Animal Hair in Medieval Ship Caulking Throws Light on Livestock Types." Environmental Archaeology 2013; 2(1), 61-66.
Deforce, K., Allemeersch, L., Stieperaere, H., & Haneca, K. (2014). Tracking ancient ship routes through the analysis of caulking material from shipwrecks? The case study of two 14th century cogs from Doel (northern Belgium). Journal of Archaeological Science, 43, 299-314.
The Wrecking of the White Ship (La Blanche-Nef)
Night of the 25th November 1120
BL Royal 20 A. ii, f. 6v. Henry I & White Ship
The heir to the English throne, son of Henry I, Prince William, together with the flower of English society gathered around him, drowned on that night. The ship they were in, the White Ship, a 50-oared single bank galley, foundered on some rocks which lay just beneath the surface of the water in
the race of Catteville just outside the harbour of Barfleur. The White Ship struck one of the rocks and sank.
During this voyage, William was accompanied by some 300 companions including 140 knights and 18 nobles, his half-brother Richard, his half-sister Matilda Countess of Perche, his cousins Stephen and Matilda of Blois, nephew of the Emperor Henry V of Germany, the young Earl of Chester and most of the heirs of the great landowners of England and Normandy. The atmosphere was merry; the Prince had filled the boat with barrels of wine. Both passengers and crew soon became drunk, sufficiently enough to chase away a group of clerics who had came to bless the journey just before they set sail. Some of the intended passengers, including Stephen of Blois [later king of England] , who was suffering from diarrhoea, sensing complications, luckily decided to take another boat.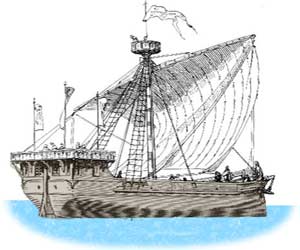 Galley with Single-Bank of Oars
Arthur Bailey Thompson (1865). The Victoria history of England: from the landing of Julius Caesar, B.C. 54, to the marriage of H.R.H. Albert Edward, Prince of Wales, A.D. 1863. Routledge, Warne & Routledge. pp. 59–

.
L'Epoque ou Soirées européennes: formant le cours le plus complet de la littérature européenne et asiatique. Naufrage du Vaisseau Blanc. Libr. des Beaux-Arts. pp. 309–12

.
Barfleur, un naufrage, le 25 novembre 1120, la Blanche Nef
Dorling, H. Taprell (1912)
All about ships
The Monthly Magazine: Or, British Register ...
. 1823. pp. 299–.
Tides, Tidal Flows and Currents in the English Channel
Curious winds and tides occur in the English Channel and North Sea. These seas are subject to high tidal ranges and the funelling effect of the English Channel as it narrows in the Straits of Dover. There are strong anticlockwise tidals streams and flows. The prevailing winds blow from the South West. These conditions can be used to effect by experienced navigators enabling them swiftly to cross the Channel over from Flanders to the English ports such as Sandwich and Dover and vice versa. Extreme adverse conditions, however, could occur if the winds were to blow in the opposite direction to the tidal flows. Fogs could could also arise blocking visibility. At the same time huge volumes of sands and gravel were shifiting from the Channel into the North Sea creating hazards like large gravel and sand banks in shallow seas and shoals upon which boats might be stranded where they would have to wait for the next high tide to lift them off. Port entrances were gradually silting up over centuries. River mouths could be blocked by huge mudbanks. Storms could arise creating choppy seas.
Navigators in these times would have to rely on their own knowledge and skill at handling the adverse conditions. Navigation generally required sight of the shoreline. There were no lighthouses, few shorelights, and few landmarks apart from cliffs, castles or church towers. There were no compasses or accurate navigation instruments. Some parts of the English Channel had dangerous rocks upon which boats could founder.
Ipswich
Ipswich Town Seal ca 1200
References
Cognitive Maps of Time and Tide Among Medieval Seafarers
Charles O. Frake
Man
New Series, Vol. 20, No. 2 (Jun., 1985), pp. 254-270